E-Cig Information
So you've been recently hearing a whole lot about electronic cigarettes and it's benefits. Sure, you can smoke virtually anywhere, as most e-cig companies like to use as their sales pitch, however it's true.
So what is an electronic cigarette?
An electronic cigarette, otherwise known as an e-cigarette, e-cig, smokeless cigarette or personal vaporizer, is a battery-operated device that emulates smoking. When you draw on the device (as you would a cigarette), an atomizer vaporizes the nicotine or non-nicotine liquid solution or 'e-liquid', converts it into smoke-like vapor that a user inhales. The act of using an electronic cigarette is often referred to as 'vaping'.
No Tobacco, No Tar, No Toxins Associated with Tobacco Smoking
Electronic cigarettes do not contain tobacco. That means you can still get your dose of nicotine without having to ingest the 4000+ chemicals, including over 40 known carcinogens, which are produced by the burning of tobacco. You also experience the same oral fixation and hand-to-mouth action of smoking that you're used to.
No Smoke Smell
Electronic cigarettes do not emit that irritating smoke smell that sticks on your hair, clothes, walls and furniture. You may smell the sweet aroma of strawberry or vanilla e-liquids, but the scent won't linger since it's only vapor, it dissipates within seconds.
Won't Stain your Teeth
Electronic cigarettes won't turn your teeth yellow and leave you with that nasty smoker's breath.
No Ash
Since there is no combustion or flame, there is no ash and no cigarette butts to deal with.
No Secondhand Smoke
The smoke-like mist being emitted from an electronic cigarette is just water-based vapor that dissipates within seconds so there is absolutely no second hand smoke.
Control your Nicotine Intake with Various Nicotine Strengths
E-liquids come in various nicotine strengths, from zero to high. This gives you more control over your nicotine intake. You can, for instance, go for a nicotine level that you were used to when you smoked regular cigarettes and then gradually decrease your nicotine level if you so wish.
Freedom to Virtually Vape Anytime and Anywhere!
You can vape almost anywhere since there is no secondhand smoke produced. This may include restaurants, bars, hotels, and offices. No need to go outside your office and stand in the blistering cold or the sweltering heat of the sun for a smoking break.
Save More Money with Cartridges and Refills
Although the initial investment of an e-cigarette starter kit may seem a little pricey at first glance, you will be saving a whole lot of money in the long run. With the electronic cigarettes we provide, you only have to buy e-liquids to keep on going. Being able to refill the cartridges with e-liquids will help you garner significant savings. Usually, the cost of electronic cigarettes is up to
80% less
than tobacco cigarettes.
Environmentally-Friendly
Discarded cigarettes are often the culprit of accidental fires that endanger lives, destroy properties, and pollute the environment. The electronic cigarette eliminates these risks and is kinder to the environment. It's the greener way!
More Socially Acceptable
Nowadays, more and more people are growing health-conscious. Smoking bans are proliferating and smokers are forced to step out of a building and stand in an isolated area to get a smoke. There are also many instances when friends or people around a smoker complain about secondhand smoke and would appreciate it if one would not light up. With electronic cigarettes, you can enjoy the company of others without having to worry about offending them with secondhand smoke.
Are Electronic Cigarettes Safe?
Many experts think that electronic cigarettes are a healthier and safer alternative to tobacco cigarettes, some research has also proven that it has helped others quit or cut their tobacco usage down, however, since e-cigarettes are still fairly new in the market, it will require many years of scientific study to further support these claims. Note that electronic cigarettes deliver some nicotine contents, which are considered addictive, but, unlike tobacco cigarettes, e-cigarettes have various nicotine levels, which enable you to systematically wean off your nicotine cravings.
For more information on the safety of electronic cigarettes, please visit: Electronic Cigarettes

------------------------------------------
How an electronic cigarette work
s
An electronic cigarette generally consists of two or three main components: a cartridge/mouthpiece, atomizer (heating element) or mouthpiece and atomizer combination (cartomizer/clearomizer), and battery. The cartridge or cartomizer acts as an e-liquid reservoir and also serves as a mouthpiece on one end. When a user inhales through the mouthpiece, an air flow sensor activates the atomizer which heats up the e-liquid inside the cartridge and converts it into smoke-like vapor that a user inhales.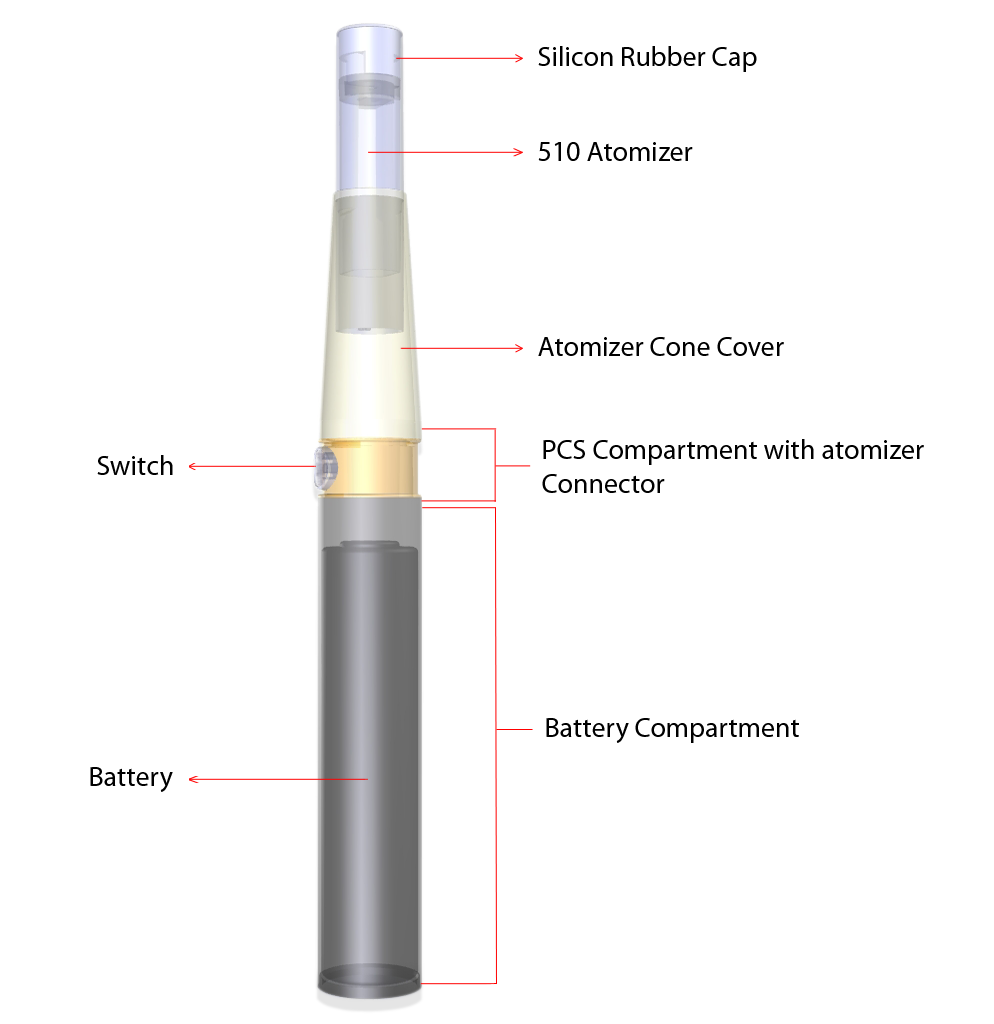 Electronic cigarettes can either come with an automatic or manual battery. For a e-cigarette with an automatic battery you simply inhale through the device to start "smoking" or vaping. On the other hand, a manual battery features a button that you press while inhaling. The button is a good feature to have since it lets you have better control on your draw time, allowing you to take longer drags. You can, for instance, press the button a few seconds longer before inhaling to pre-heat the e-liquid and produce warmer vapor and a stronger throat hit. At first, the button may seem awkward to beginners – but it only takes 5 minutes to get the hang of.
------------------------------------------
If you have any questions or concerns about electronic cigarettes or any information on this website, please feel free to contact us directly and we would be more than happy to answer any questions you may have!
Sorry, there are no products in this collection